Amnesty International AwardElsa Osorio
Elsa Osorio was born in Buenos Aires in 1952. She lived in Madrid for 14 years. In 2006 she returned to Argentina, although she spends part of the year in Europe and Uruguay. Osorio is a novelist and screenwriter for film and television. She runs a creative writing school, currently online. Her work has won, among others, the National Award in Argentina, the Argentores Award for Best Comedy Screenplay, the Humor Journalism Award, the Amnesty International Award, and has been a finalist for the Femina Prize in France. Her novel A VEINTE AÑOS, LUZ has been translated into over 20 languages.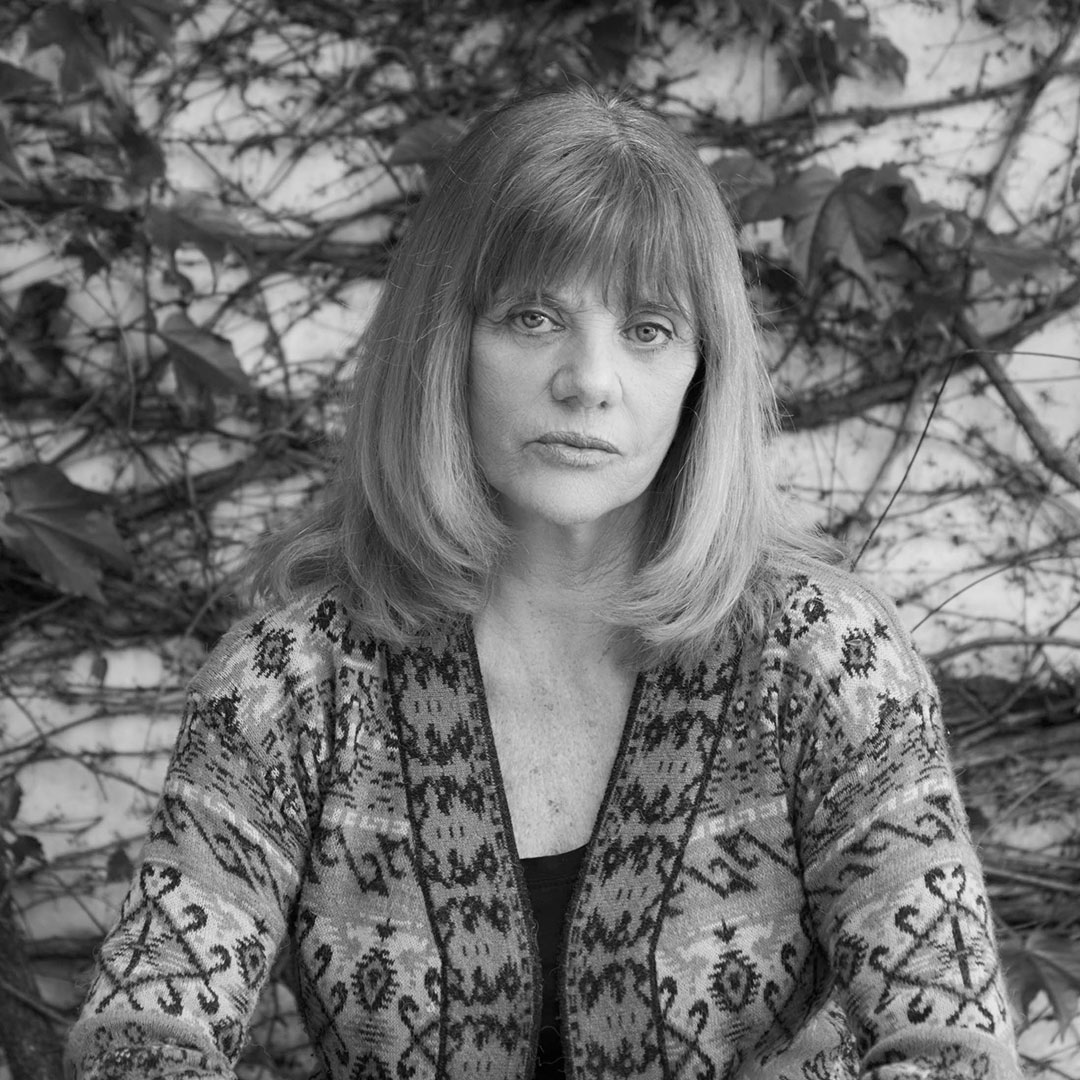 © Alejandra López
False Bottom ("Doble fondo") is set in the north of France in 2004. The body of a drowned woman is found at a fishing village on the French coast. It is Marie Le Boullec, a respected doctor from a nearby town. Circumstances call the attention of a young journalist, Muriel, who does not believe it was a suicide. The case recalls those who disappeared during the Argentine dictatorship, thrown alive to the sea from a plane. Muriel begins to write articles in the local newspaper, they arouse so much interest among readers that they are picked up by the national press. Some people would like to silence her, but she presses ahead. When Muriel discovers that the identity of the victim was false, she also finds some very revealing emails exchanged between an Argentine young man, Matías, and Soledad, another of Marie's pseudonyms. For Muriel, things get complicated: She feels a stronger affection towards Matías, although their relationship is only virtual, which threatens her real relationship with Marcel, her research partner. With a growing suspense, the present and the past are interwoven until they reach a surprising end that shows the perverse repression of the political system, the desperate life of a woman in a borderline situation and the investigation that leads to the murderer.
Based on real facts, research and survivors' testimonies, the characters and circumstances are fictional and respond to the needs of the novel.
For My Name is Light ("A veinte años, Luz"), translated into over twenty languages, Elsa Osorio was awarded the Amnesty International Literary Prize, awarded for the first time on the Human Rights Organization's 40th anniversary. Osorio's novel deals powerfully with a woman's quest for her identity shrouded in the blackest period of Argentina's history. It was only a fleeting intuition, but her doubts about her true origins become an obsession for Luz: was she, as she had believed for twenty years, the daughter and granddaughter of addicts to the Argentine dictatorship or, on the contrary, was she the daughter, born in captivity, of two of the "disappeared"? As if suddenly the blindfold fell from her eyes, her entire past takes on a new meaning.
Sensitive and differentiated, Elsa Osorio recounts the shocking events in her world bestseller For My Name is Luz.
Chance unites Ana and Luis in a tango, in a Paris milonga in 2000. She is French and loves tango with the same passion with which she rejects her father's country: Argentina. Luis is from Buenos Aires, passing through Paris, as the last bet to leave behind a deep economic and creative crisis. The project of making a film about tango, to be directed by Luis and in which Ana will participate, will link them from that moment on. Tango Sky ("Cielo de Tango") recreates the history of a city and a music through the saga of two families, at opposite ends of the social spectrum. An explosive cocktail of love, fight, joy and betrayal, and a dangerous and sensual dance that melts them into a hug.
In a very moving way, Osorio's narratives deals in Dead End With An Exit ("Callejón con salida") with the dreams and hopes of people who are looking for an exit from the dead end of their lives. Andrea finds the place where she can cry at the funeral for a stranger who is unknown to her; A man who during the dictatorship lived for many years under Marcos's name, finally gives Marcos his life back; Gabi travels in search of her missing brother and finds a completely different happiness. But all of them, even if they tell us about wounds that are difficult to heal – loss of identity, loneliness, betrayal – are open to hope. Hence the title of this book. Dead end with an exit, then, is the triumph of literature in its noblest sense: thanks to it, reality, even in its most sordid and disturbing aspects, becomes a message to relieve all those who, whether for political or personal reasons, had to remain silent and had no salvation. The author's commanding domination of intrigue extends from beginning to end.
Quotes
Dead End With An Exit
Mika Etchebéhère might seem a fictional character, but she existed. In the summer of 1936, Madrid vibrated with the revolutionary expectation of happiness; at the same time there is fear of what the right-wing military coup will bring to the country. The streets are full of young people looking for weapons for the imminent civil war. Together with her husband Hipólito, the Argentinean revolutionary Mika Etchebéhère has joined the armed resistance to fight Franco's troops for a fairer world – despite the unequal means at their disposal. Her political conviction and her love for her disease-prone husband have led her to war. When fate threatens to shake her vitality, it is once again events that help her overcome personal grief, and Mika, with her strong charisma and ability to inspire people, is indispensable to the ill-equipped militia. They appoint her Captain, the only woman to lead a column in the Spanish Civil War. And while she is with the young men and women under her command in the trenches near Madrid, they end up fighting the Moscow stalinists, and another drama begins. Captain Mika ("Mika – La Capitana") A lightwax-narrated, stirring novel about the life and love story of a woman in times of war and revolution.
NOVELS
False Bottom ("Doble fondo")
Buenos Aires: Tusquets 2017, 376 p.
Barcelona: Tusquets 2018
France: Métailié 2018 · Italy: Guanda 2017
Captain Mika ("Mika – La capitana")
Buenos Aires: Seix Barral 2012; Tusquets 2017, 343 p.
France: Métailié 2012, pb 2014 · Germany: Suhrkamp 2011 · Italy: Guanda 2012, pb 2014 · The Netherlands: Ambo Anthos 2012 · Spain: Siruela 2012
Tango Sky ("Cielo de tango")
Buenos Aires: Planeta 2006, Colihue (Latin America) 2014, 448 p.
Brazil: Planeta 2008 · France: Métailié 2007, pb 2008 · Germany: Suhrkamp 2007, pb 2008 · Italy: Guanda 2006 · The Netherlands: Ambo Anthos 2006, 2008 · Poland: Oficyna Foksal · Portugal: ASA 2007 · Spain: Siruela 2006, Círculo de Lectores 2007
My Name is Light ("A veinte años, Luz")
Buenos Aires: Mondadori 1999, Planeta 2006, Colihue (Latin America) 432 p.
Brazil: Objetiva 2001 · China: Nanfan Chiayuan 2010 · Denmark: Centrum 2001, pb 2003 · Egypt: Al Arabi 2016 · Finland: Otava 2001 · France: Métailié 2000, Métailié Suite 2002, Seuil Points pb 2010 · Germany: Suhrkamp 2000, btb 2002 pb, Suhrkamp pb 2007 · Greece: Harlenic Hellas 2001 · Indonesia: Pasataka Alvabet 2007 · Israel: Keter 2003 · Italy: Guanda 2000, pb 2002 · Japan: Sony Magazines 2001 · Korea: Bertelsmann 2011 · Mexico: Mondadori 1999 · The Netherlands: Ambo Anthos 2000 , pb 2002 · Poland: Oficyna Foksal 2009 · Portugal: ASA 2000 · Spain: Alba 1998, Círculo de lectores 1999, Punto de Lectura pb 2002, Siruela 2008 · Sweden: Albert Bonniers 2001, pb 2003 · Turkey: Dipnot · UK: Bloomsbury 2003, pb 2004 · USA: Bloomsbury 2004
Cómo tenerlo todo
Buenos Aires: Planeta 1993, 232 p.
(Pseudonym Barbara Lagrand)
STORIES
Dead End With An Exit ("Callejón con salida")
Buenos Aires: Planeta 2009, 165 p.
Madrid: Planeta 2003
France: Métailié 2010 · Germany: Suhrkamp 2010 · Italy: Guanda 2009 · Spain: Siruela 2009 · The Netherlands: Ambo Anthos 2010
Reina Mugre
Buenos Aires: Editorial Punto Sur 1990, 150 p.
Ritos privados
Buenos Aires: Editorial Losada 1982, 180 p .
BIOGRAPHY
Beatriz Guido. Mentir la verdad
Buenos Aires: Planeta 1991, 221 p.
ESSAYS
Las malas lenguas
Buenos Aires: Centro Editor Latinoamericano 1995, 209 p.