Anna Seghers Prize 2020Hernán Ronsino
Hernán Ronsino was born in Chivilcoy, Argentina in 1975. Since 1994 he has lived in Buenos Aires. He is a sociologist and professor at the University of Buenos Aires. He co-publishes the culture magazine Carapachay. In 2011, the Guadalajara International Book Fair selected him as one of the new leading authors in Latin America. His work has been translated into French, German, Italian and Portuguese. His novel FIRELIGHT ("Lumbre") is included in the HOTLIST 2016 of the independent German-language publishers. He is one of the two winners of the renowned Anna Seghers Prize 2020. The prize has been awarded since 1986 and is endowed with 12.500 € for each author.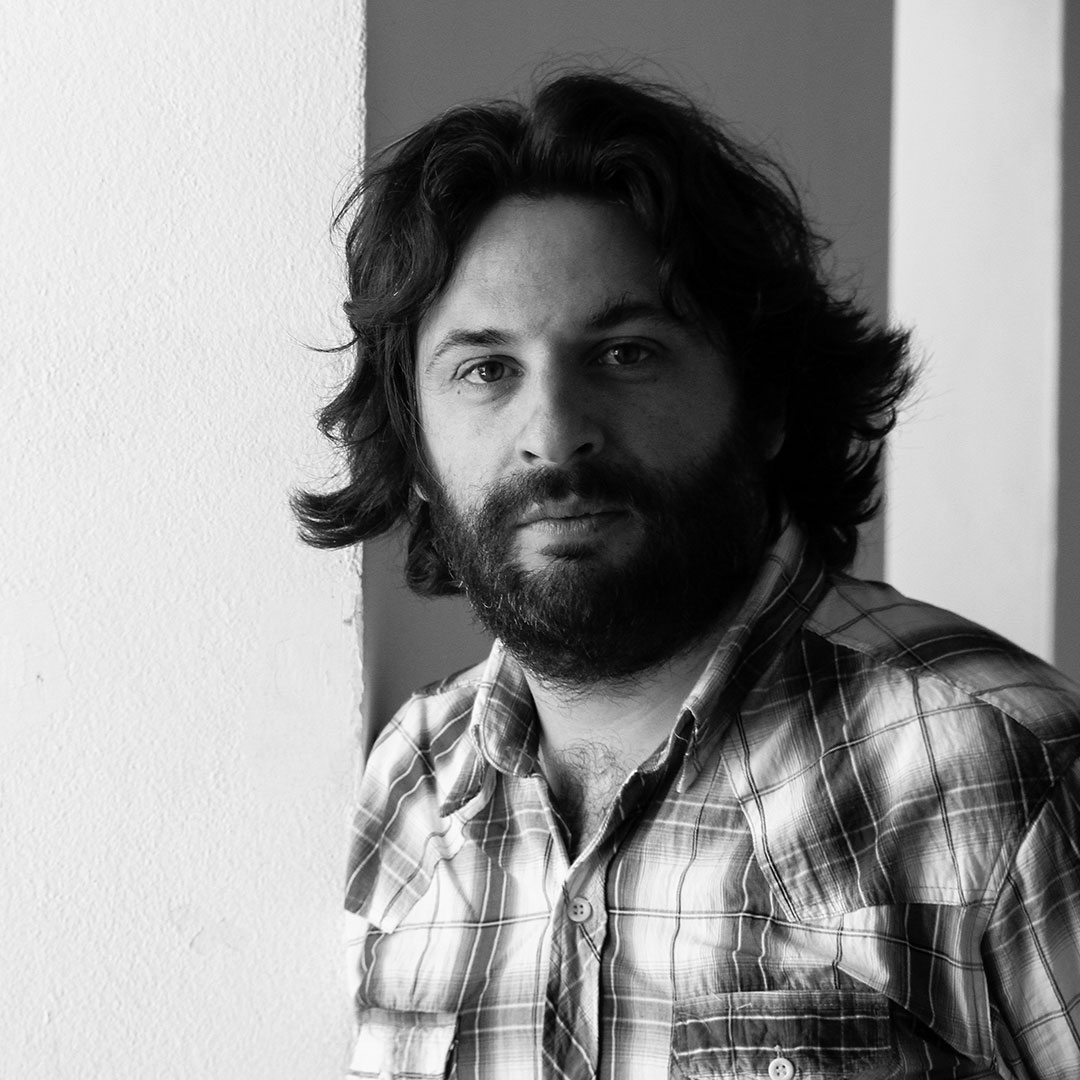 © Vito Rivelli
In Cameron, Julio Cameron bears the same name as his father, his grandfather and his great-grandfather. His grandfather was a glorious general, a war hero who crushed rebellions and triumphed in bloody battles. The narrator also served his country, and got his hands dirty for his country. Now he's an old man with a prosthetic leg waiting for winter when his housekeeper and lover Mita comes back to him. Until then, he hangs around the pubs or spends the evenings in the jazz club, health permitting. When fever keeps him in bed, memories come flooding back to him, to the time when the Iron Bridge was rebuilt, and to his work in the torture chamber behind the airport. He observes the people around him closely, registering every detail – it's an old occupational disease. But the past unexpectedly catches up with him; the investigators are hot on his heels. There is no way out, only the hope that everything will be covered by the snow.
Ronsino shows the hunter as hunted. With his finely woven web of narration and an oppressive tension, he captures the reader and leads him into the heart of darkness, exploring the limits of justice and revenge.
Firelight ("Lumbre") takes places during three days in March in 2002. It tells the story of Federico Souza who returns to his hometown because a close friend, Pajarito Lernú, has died. A stolen cow is the inheritance that Souza receives from him. Lumbre is structured from a present that constantly triggers evocations. It explores the personal memories of the narrator as well as the historical memory of a town and its myths. The scenery is often reminiscent of a Coen Brothers movie setting. Ronsino describes the brutality of the countryside with a striking light and clear narrative voice. Lumbre is an exceptional novel that confirms Ronsino's narrative as one of the finest and most outstanding in current Argentinean literature.
Last Train to Buenos Aires
In a derelict town in Argentina's pampas, a decades-old betrayal simmers among a group of friends. One returns from serving time for a crime he didn't commit; another, a policeman with ties to the military regime, discovers his wife's infidelity; a third lies dying. And an American missionary has been killed. But what happened among these men? Spinning through a series of voices and timelines, Last Train to Buenos Aires ("Glaxo") reveals a chilling story of four boys who grow up breaking-in horses and idolizing John Wayne, only to become adults embroiled in illicit romances, government death squads, and, ultimately, murder. Around them, the city falls apart. Both an austere drama and a suspense-filled whodunit, Glaxo crackles with tension and mystery.
Melville House
Quotes
Last Train to Buenos Aires
In the village where Bicho Souza, Abelardo Kieffer, and Pajarito Lernú live, the air at times becomes unbreathable. The feeling that something has broken hangs over the countless stories that build the memory of the characters: a hunting accident, a crime, a tornado, a suicide: "Something is fraying, unpredictable, on dark tissues, in the bowels of the moment: and we do not see, and cannot, for being blind, stop it.
The Decomposition ("La descomposición") is a morose novel that seems to speak of the impossibility of narrating, but also of a very clear moment of Argentina, social, family, personal decomposition, dominated by boredom and lack of future. A brilliant prose, in which the historical, literary and fiction intertwine, one of the strongest voices in contemporary Argentina narrative.
NOVELS
Cameron
Buenos Aires: Eterna Cadencia 2018, 79 p.
Buenos Aires Municipal  Award 2021
Chile: Hueders 2018 · Colombia: Laguna Libros (in co-edition with Eterna Cadencia) · Mexico: Almadía 2019 · German: Bilgerverlag 2020· Serbia: AED studio
Firelight ("Lumbre")
Buenos Aires: Eterna Cadencia (Spanish world rights) 2013, 288 p.
Extract published at Bomb Magazine, UK ("The Cow")
France: Gallimard 2017 · German: Bilger Verlag 2016 · Italy: Gran Via 2015 · Serbia: AED studio· Turkey: Cinar Yayinlari
Last Train to Buenos Aires ("Glaxo")
Buenos Aires: Eterna Cadencia (Spanish world rights) 2009, 96 p.
Film rights under option at RT Features
Brazil: Editora 34 2017 · Chile: Cuneta Editora 2013 · France: Liana Levi 2010 · German: Bilger Verlag 2012 · Greece: Opera · Italy: Meridiano Zero 2013 · Serbia: AED studio· Turkey: Cinar Yayinlari 2018 · USA: Melville House 2017
The Decomposition ("La descomposición")
Buenos Aires: Interzona 2007, Eterna Cadencia (world rights) 2014, 144 p.
German: Bilger Verlag 2018· Serbia: AED studio
STORIES
I'll Puke You out of My Mouth ("Te vomitaré de mi boca")
Buenos Aires: Libris 2003, 96 p.
Received an honourable mention from the Fondo Nacional de las Artes in 2002
La Curva
Israel: Ilmor (online edition in English/Spanish/Hebrew)
ESSAYS
Field Notes ("Notas de campo")
Buenos Aires: Excursiones 2017, 100 p.
CHILDREN'S BOOKS
Bicycle ("Bicicleta")
Montevideo: Topito Ediciones 2013, 50 p.