Grand Prix de Littérature Policière 2016Boris Quercia
Boris Quercia Martinic was born in Santiago, Chile in 1966 as the grandson of Italian and Yugoslav immigrants. He is an actor, director, screenwriter and novelist. He studied theatre at the University of Chile in the 1980s (the rest he taught himself). In one of the greatest successes of the Chilean theatre, THE BLACK ESTER ("La Negra Ester"), he acted as Roberto Parra (the brother of Violeta Parra). Quercia is the director of SEX WITH LOVE ("Sexo con Amor"), one of the most watched films of the local cinema, and THE EIGHTIES ("Los 80"), the most highly-awarded series of Chilean television. As a writer he won the Grand Prix de Littérature Policière 2016 with his second novel.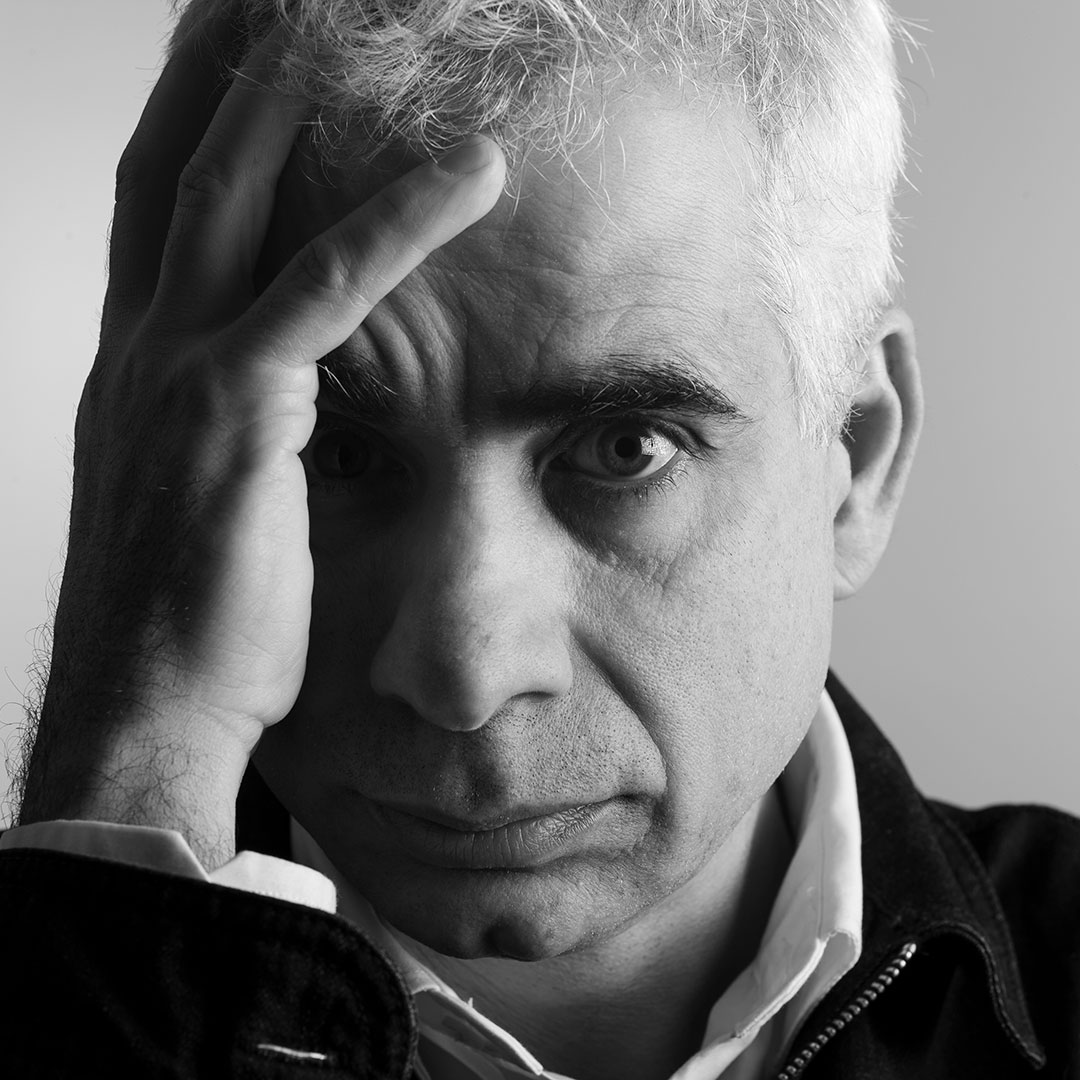 © Antonio Quercia
For a short time, Víctor holds in his hands "the future of the Society of the Free", a metallic cube where the only copy of the network containing the data of Neurón, a parallel society that tries to escape the oppressive power of the state, is kept. But Nivia has betrayed him. His partner is actually an agent and has set him up. Víctor is pursued, captured, tortured. But he no longer carries the cube in his hand, for now Víctor is Neurón. Within his consciousness, irreversibly attached to his thoughts and even his most intimate memories, Neurón is hidden. And from his damaged body the information that keeps the Neurón network and the Society of the Free alive is transmitted. For the resistance, Víctor becomes a saviour figure. Mila, whom he once loved but from whom he had to distance himself for security reasons, does everything she can to save him. Will Neurón perish or can the network survive, and with it hope?
In his fiercely written novel, Quercia depicts a dystopian world from the point of view of the characters who live in it. He is primarily interested in their behaviour under what they perceive as a normal state of surveillance. In a world that has features of our present, but also harks back to the military dictatorships of the last century.
In The Dreams That Are Left ("Electrocante"), Natalio, a Class 5, the City's most despised cops, responsible for quietly eliminating dissidents, needs to get a new 'electrocant', a human-looking robot that serves as his assistant. Short of money, he makes do with an old, low-quality model that quickly distinguishes itself by the disturbing strangeness of its expressions and reactions. But Natalio has no time to ponder these anomalies: he has a new case to solve. He has been contacted by Special Dreams, the huge virtual reality company in which millions of the City's inhabitants take refuge from their miserable lives, encapsulated in impossible dreams. An imposter is selling spaces using stolen identities. While some fiercely oppose this disturbing business venture, others would give anything to gain access. The investigation turns dangerous and reveals a conspiracy beyond its possibilities, in which the robot is a key component.
Quotes
The Dreams That Are Left
Santiago Quiñones is at his wit's end. His fiancée Marina does not love him anymore. Is it because he had too many other women, even without ever having loved anyone other than Marina? His police colleagues despise him. Is it because he had an affair with his boss's wife, and this boss is now after him? And he's gnawed by guilt ever since he helped his seriously ill stepfather to die. Is it because he grew up without a father? One night, Santiago falls on a small-time drug dealer and makes a silly mistake. This misstep will not be long in catching up with him… In The Blood Is Not Water ("La sangre no es agua", French title: "The Legend of Santiago"), Boris Quercia shows us his villainous policeman Santiago Quiñones in a new adventure, endowed with a sense of honour as twisted as it is solid.
Quotes
The Blood Is Not Water
In Santiago Quiñones, Cop ("Santiago Quiñones, tira") it's cold, it's six in the morning and Santiago does not want to kill anyone. The problem is that he's a cop. A cop in Santiago de Chile. And he is about to arrest a band of dangerous but inexperienced and unpredictable delinquents… After killing a fifteen-year-old young man during a difficult arrest, Santiago wanders through the streets of his city, filled with disgust. This is how his path crosses with that of beautiful Ema Marín, a woman so seductive that she will entangle him in a dark scam. Ema is an insurance broker who seems to know a lot about the cop's past, and the reader learns that he doesn't have an altogether clean slate… The police story goes deeper and deeper into the city's underworld, where the force of events is incontestable and any possible dream is dashed. The attraction to women and sex at the heart of the story will lead the reader on unsuspected and strangely tragicomic paths, creating a highly original atmosphere and tone.
Quotes
Santiago Quiñones, Cop
Dead Dog ("Perro muerto") is Santiago Quiñones's second case. He has experience in the detective trade: he has faced several shootings and avid delinquents. However, when he believed he had seen everything, in a bloody battle, Jiménez, his companion, is fatally wounded. Worse still, the deceased seems to have been mixed up with some murky stories, and had internal affairs on his back. Out of curiosity as much as idleness, Santiago begins to investigate, and he finds a young woman he knows well. Yesenia lives only to avenge herself for having been kidnapped and raped by her father-in-law. In the name of their past friendship she asks Santiago to kill this man. He is plunged into a crisis: he wants a normal life, he wants to spend some days off at the seaside with his girlfriend Marina, with whom things have been difficult recently – but even if he tries, he cannot get away from his problems. It is in this oppressive atmosphere that a clue leads Santiago to the true reasons for the death of his friend, and triggers a delirious adventure in the toughest districts of Santiago. Once again, it's the tone of the novel and the complex character of the main figure – who loves his girlfriend but wants to try other women as well, who is not always politically correct but is a moral person who in the end is going to do the right thing – that inevitably draws the reader into its spell.
NOVELS
Neurón
Manuscript, approx. 153 p.
France: Asphalte, forthcoming October 2023

The Dreams That Are Left ("Electrocante")
Santiago de Chile: Suma de Letras (PRH) 2021, 216 p.
France: Asphalte 2021 · Spain: Alrevés

The Blood Is Not Water ("La sangre no es agua")
Santiago de Chile: Roja & Negra (PRH) 2019, 199 p.
TV rights sold
France: Asphalte 2018 · Spain: Alrevés 2022

Dead Dog ("Perro muerto")
Santiago de Chile: Roja & Negra (PRH) 2016, 241 p.
Grand Prix for Crime Literature 2016
TV rights sold
France: Asphalte 2015, Poche pb 2017 · Spain: Alrevés 2021

Santiago Quiñones, Cop ("Santiago Quiñones, tira")
Santiago de Chile: Roja & Negra (PRH) 2010, 2016, 151 p.
TV rights sold
English sample available
France: Asphalte 2014, Poche pb 2015 · Spain: Alrevés 2021 (Entitled: "Hoy no quiero matar a nadie. Un caso del detective Santiago Quiñones")
SCREENPLAY
Sex with Love ("Sexo con amor")
Santiago: Ediciones Universidad Mayor 2008, 135 p.