Sergio Bizzio, born in Buenos Aires in 1956, is a narrator, poet, dramatist, scriptwriter and screenwriter. Author of a large oeuvre and considered ahead of his time, he has often been hailed as one of Argentina's best contemporary writers. The films based on his books have all won the most prestigious awards at the New York, Cannes and Tokyo festivals. Sergio Bizzio won the National Prize 2022 in the category Short Stories/Tales for his work THE CONQUEST, IRIS AND CONSTRUCTION, presented by the Argentinean Ministry of Culture. In September 2023, he was on the cover of El País.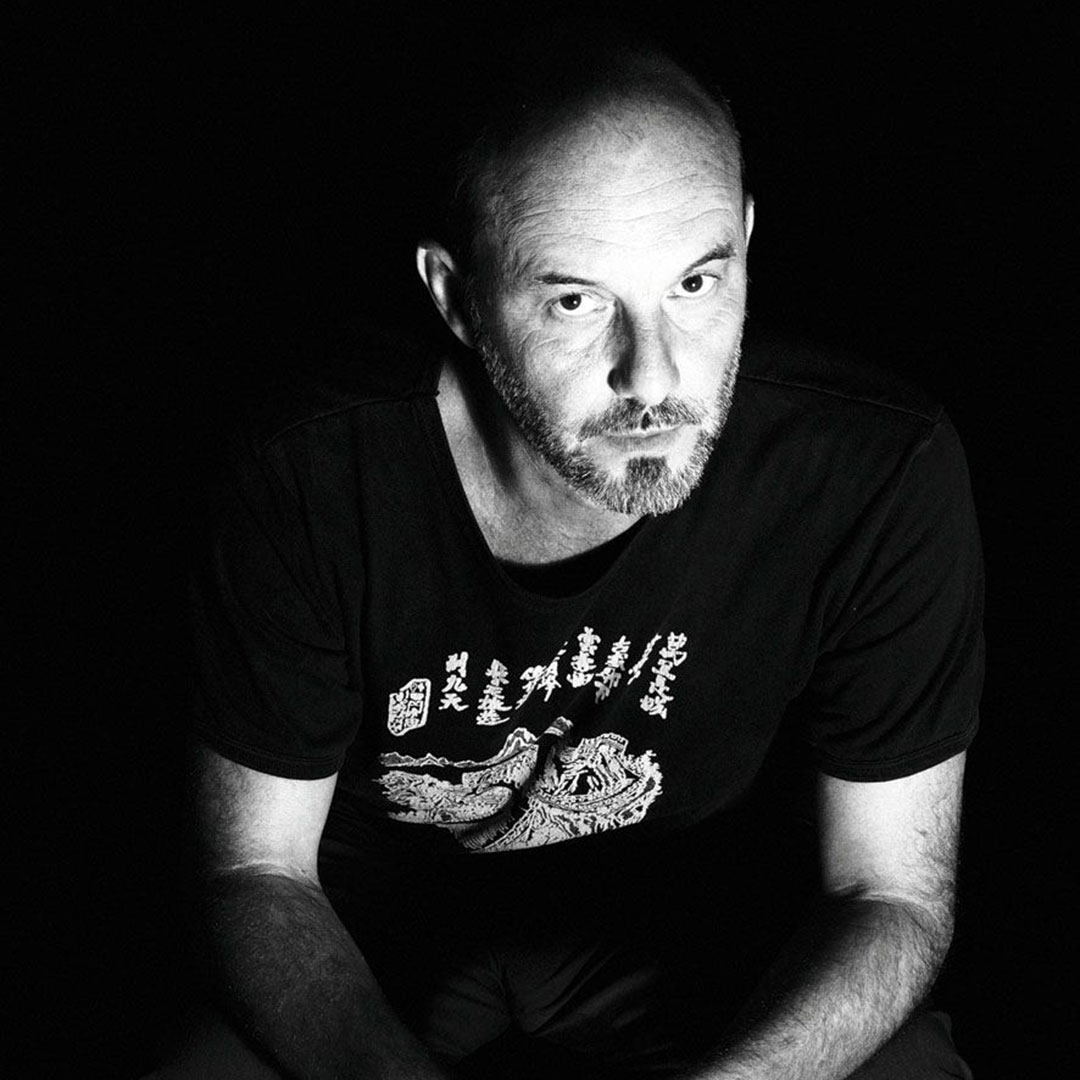 © Julia Gutiérrez
Mirages detach themselves from reality like the mercurial vapor of distance on a road. Ethereal. It is there and yet unreachable. When we think we have mastered it, what we believe to be real folds in on itself, or unfolds like a magician's handkerchief.
Sergio Bizzio pulls back the curtain. Everything seems to be as it is. And yet… knock on the glass and some peculiar members of the human species reach extraordinary speeds; a doll comes to life and dies, or someone has to struggle with the power to make all their wishes come true…
In Bongo Fury, Bizzio reveals the richness of his art. Time accelerates exponentially; voices become inaudible; geographies shift and bodies twist in unusual acrobatics. Each story opens up to the unknown dimension of the times we live in.
Beyond the well-known stories of Juan Díaz de Solís, Pizarro, Magellan and Columbus, there are many others that were forgotten and lost; some distorted and falsified, and others, perhaps, that never had the chance to be told. Bizzio takes advantage of the gaps in history to give free rein to his imagination in a short, intense piece about the clash of civilisations.
The Lost ("Perdidos") is a fast-paced novella, told in the first person through the diary or logbook entries of an explorer of the new world. A surprising and dynamic read with powerful and well-constructed episodes that weave together a succession of encounters and misfortunes, adventures with the indigenous people and nature in a jungle as dangerous as it is beautiful: the Amazon. Showing the fragility, helplessness, fear and sense of humour of these men who, despite their role in history (in today's eyes destructive and criminal), were still fathers and sons with families on the other side of the ocean to whom they hoped to return.
-What are you doing disguised like that? Aren't you warm?
-I'm not disguised, I'm from another planet.
Three Martians ("Tres marcianos") are three brilliant tales with protagonists who come from the countryside, the city or other planets.
A gaucho assures his courtesan that there is a flying saucer parked on the top of a mountain and that, that very night, they are invited to meet its crew.
A being that can only be visited by appointment has shaken the life of the whole village; the neighbours are unable to comprehend what happens during these encounters.
After a space journey of more than two years, a couple meets again, but the embrace becomes unsettling: the other seems to be not exactly the same person they left behind.
Three close encounters of the first kind in the best Bizzio style: captivating from the first line, visual throughout and leaving the impression – or the doubt – that they really happened.
After their wedding party, Carlos and Irina go on a honeymoon: Ten Days in Re ("Diez días en Re"). She is happy; he is still a little drunk. They take a plane, get on a barge, and after many hours travelling they arrive at the beaches of Re. The landscape is perfect. And while looking at Irina smiling from the shore, a devastating certainty falls over Carlos: he does not love her. This thought stuns him in such a way that his arm is left stiff for days and he can't move it. Carlos wanders like a soul in pain trying to make sense of his existence and thinking about how to proceed.
From what is initially perceived as a story of a separation, something else soon arises. The story mutates and twists, and drags us through the sand of its tropical paradise into the deepest bewilderment. On the scenography of a honeymoon, Bizzio sets a series of elements that stretch the limits of reality. Page by page the story becomes a new one, becoming thick and magnetized like the jungle that surrounds the characters. Once again Bizzio unfolds his sharply delicate prose, immersing us once more, with a disturbing naturalness, in a universe full of strangeness.
At the age of twelve, Irina lost her mother in a road accident. The next day she was sent to live with her father in Huel, a tiny village in the middle of the plains. For years she had not heard from him. She could only remember him as an office worker with an orderly life. Now he was a savage who looks after his physique: he eats raw eggs for breakfast, breaking them directly into his mouth, dressed in a sack and tie.
Life in Huel is monotonous and idle, until her father's ex-wife returns with the intention of taking their house from them. They begin to build a new one nearby, but day after day they find the foundations destroyed. From then on, the plausible begins to get strange and twisted.
In My Life in Huel ("Mi vida en Huel") Sergio Bizzio explores with delicate precision the social, aesthetic and amorous fantasies of an out-of-the-ordinary teenager in a world where the borders of the possible become increasingly diffuse. His mastery of the construction of atmosphere keeps us floating, flying over the land of an unusual and disturbing village.
Borgestein // The Eaten Writer // Aiwa
Borgestein tells the apparently everyday story of a marriage crisis. Julia is an actress who only ever thinks of her career. When her husband is attacked by one of his patients he withdraws to a house in the mountains to think about his own life and their life together. With typical absurd narrative moments and unexpected twists and turns, the author has created a jewel of current Argentine writing.
As a star author grows tired of his success, he uses a plane crash to stage his death and starts a new life in the jungle. In his latest novel The Eaten Writer ("El escritor comido"), Bizzio takes the reader on an unusual and imaginative adventure while posing elementary questions on mankind today.
Written with the quiet humour and the fresh and concise style that characterise Bizzio's books, Aiwa tells a tender and unusual love story in a world both bizarre and ordinary. When the teenagers Aiwa and Sony meet, it is love at first sight, but they have to hide their relationship. However, there are mysterious changes going on in Aiwa's remote village, and soon a group of scientists disturbs their quiet life. What will they find?
In Bizzio's novel Reality ("Realidad"), an Arabic terrorist commando hijacks an Argentine television channel in order to put pressure on the government to hand over a traitor. The Afghan head of the intruders is fascinated by the dynamics of the broadcasted reality show Big Brother and decides to use it to dismantle Western values. Indeed, the candidates accept any form of humiliation in order to become famous. As the hijackers are finally overwhelmed by the police, the fictional existence of the contestants ends and they return to real life – or is it the other way round?
It Was the Sky ("Era el cielo") tells the story of a faltering relationship. Only a few days after making up with her, a man watches his wife being raped. He remains undiscovered and the two of them never utter a word on the matter. Caught up in the resulting dynamics, the protagonist sleepwalks towards the edge of a psychological abyss, only saved by his love for his son.
Rage ("Rabia") is a fast-paced love story revealing the lives of the lower classes with psychological empathy and a good dose of black humour. After a heated argument with his foreman, the construction worker José María ends up strangling him and flees to the palatial villa where his girlfriend Rosa works as a maid. Hiding out in one of the attics, he watches the family. Then Rosa is raped…
NOVELS

Un lugar precioso
Buenos Aires: Penguin Random House
The Lost ("Perdidos")
Buenos Aires: InterZona 2021, 133 p.
Ten Days in Re ("Diez días en Re")
Buenos Aires: Literatura Random House (PRH) 2017, 122 p.
Israel: Tesha Neshamot 2017
My Life in Huel ("Mi vida en Huel")
Buenos Aires: Literatura Random House (PRH) 2016, 165 p.
Israel: Tesha Neshamot

Borgestein
Buenos Aires: Literatura Mondadori, (PRH) 2012, 191 p.
France: Bourgois 2014 · Israel: Zikit 2014 · Italy: La Linea 2014
The Eaten Writer ("El escritor comido")
Buenos Aires: Mansalva 2010, 222 p., Interzona (worldwide excl. Chile and Spain)
Chile: Libros de Laurel 2021 (only in Chile) · Spain: Blatt & Ríos (only in Spain) 2021 · Uruguay: Criatura 2012
Aiwa
Buenos Aires: Mansalva 2009, 144 p.; Caballo Negro
(Adaptation with Pablo Tunica as Graphic Novel planned, sample available)
Reality ("Realidad")
Buenos Aires: Literatura Mondadori (PRH) 2008, 224 p.
Film rights under option
Bulgaria: ERA · France: Bourgois 2014 · Italy: Edizioni E/0 2009 · Spain: Caballo de Troya 2009
It Was the Sky ("Era el cielo")
Buenos Aires: Interzona 2007, 2011, 2017 189 p.
Film directed by Marco Dutra, released in 2016 under the title "The Silence of the Sky"
Film rights sold to RT Features
Brazil: Iluminuras · Israel: Neshamot 2018 · Spain: Caballo de Troya 2009
El día feliz de Charlie Feiling
Rosario: Editorial Beatriz Viterbo 2006, 128 p.
(with Daniel Guebel as co-author)
Rage ("Rabia")
Buenos Aires: Interzona 2004, 2011, 2023 (worldwide excl. Chile and Uruguay), 189 p.
Buenos Aires/Barcelona: Mondadori 2005
Theathre adaptation by Claudio Tolcachir, world premiere at La Abadía Theatre Madrid, September 2023
Film directed by Sebastián Cordero,
produced by Guillermo del Toro 2009, released in Latin America, France and New York World Premiere at TIFF 2009
Screened at San Sebastián Film Festival 2009
Premio Internacional de la Diversidad
Special Jury Award at Tokyo International Film Festival 2009
Bangladesh: Swapno · Brazil: Record 2008 · Chile: Libros del Laurel 2018 ·  France: Bourgois 2008 · Germany: DVA 2010 · Israel: Simtaot 2012 · Italy: Donzelli 2009 · Kuwait: Alsurra 2019 · Portugal: Almedina 2022  · Spain: El Cobre 2004; Mondadori 2005; Nuevas Ediciones 2008 · The Netherlands: Meulenhoff 2010 · UK (world rights): Bitter Lemon Press 2009 · Uruguay: Criatura 2015
At that Time ("En esa época")
Buenos Aires: Emecé 2001, 208 p.
Premio Emecé de Novela
Chile: Libros de Laurel (only in Chile) · Spain: Blatt & Ríos (only in Spain) 2022

Planet
Buenos Aires: Sudamericana 1999, Interzona 2015, 208 p.
Más allá del bien y lentamente
Buenos Aires: Sudamericana 1997, 214 p.
Son del África
Mexico City and Buenos Aires: Fondo de Cultura Económica 1993, 149 p.
Infierno Albino
Buenos Aires: Sudamericana 1992, 169 p.
El divino convertible
Buenos Aires: Catálogos Editora 1990, 239 p.
STORIES
Bongo Fury
Buenos Aires: Penguin Random House 2022, 160 p.
Three Martians ("Tres marcianos")
Buenos Aires: InterZona 2020, 74 p.
The Pyramid ("La Pirámide")
Buenos Aires: Blatt & Ríos 2019, 61 p.
Chile: Libros del Laurel 2019

The Conquest, Iris and Construction ("La conquista, Iris y Construcción")
Buenos Aires: Literatura Random House (PRH) 2019, 128 p.
National Prize 2022 in the category Short Stories/Tales

Two Spatial Fantasies ("Dos fantasías espaciales")
(Estancia, Viaje al único)
Buenos Aires: Mansalva 2015, 125 p.
En el bosque del sonambulismo sexual
Buenos Aires: Mansalva 2013, 92 p.
A Lifelong Love ("Un amor para toda la vida")
Buenos Aires: Mansalva 2011, 61 p.
Film directed by Paula Hernández, 2011
Chile: Libros del Laurel 2018 · Egypt: Dar Khan
Martín Fierro
Madrid: 451 Editores 2008
Boys ("Chicos")
Buenos Aires: Interzona 2004, 2012, 169 p.
Cynicism ("Cinismo") (published in "Chicos")
Made into the film XXY, directed by Lucía Puenzo, produced by Luis Puenzo and Wanda Vision. Five awards in Cannes 2007; winner of the Goya Award
Brazil: Iluminuras 2010 (anthology Os outros) · France: Magellan 2010
PARTICIPATION IN ANTHOLOGIES
La Argentina cómo narración
Buenos Aires: Fondo Nacional de las Artes (FNA)
ESSAY
El genio argentino, Buenos Aires: Eloísa Cartonera 2004,15 p.
POETRY
Te desafío a correr como un idiota por el jardín, Mansalva 2008 64 p.
El abanico matamoscas, Belleza y Felicidad 2000
Mínimo Figurado, Edición Último Reino 1988, 41 p.; Tierra Baldía 1990
Gran salón con piano, Ediciones Salido, 1985, 62 p.
THEATRE
Gravedad, 2003
Buenos Aires: Beatriz Viterbo 1996, 84 p.
Interzona: 2017
Film rights sold, directed by Fernando Spinner
La china (with Daniel Guebel as co-author), 1996, 2009
Argentina: Interzona
El hospital de los podridos y otras maravillas (version of Cervantes' "Entremeses"), 1994
El Amor, 1996
Un Fausto criollo (version of Estanislao del Campo's "Fausto"), 1993
FILMOGRAPHY
SCREENPLAYS
Adiós querida luna (based on the theatre piece Gravedad), 2005
El regreso de Peter Cascada, 2005
Chicos Ricos, 1999
DIRECTION
100 tragedias (together with Mariano Galperín) 2008
Rey Queen (documentary), 2006
El disfraz, 2003
Animalada, 2001
No fumar es un vicio como cualquier otro, 2010