Don't Know if I Should Get Married or Buy Myself a DogPaula Perez Alonso
Paula Perez Alonso was born in Buenos Aires in 1958. She studied journalism and literature in Buenos Aires and London, and worked in radio and television and for various print media. Perez Alonso is now an editor for fiction and non-fiction titles at Editorial Planeta Argentina. Her first novel DON'T KNOW IF I SHOULD GET MARRIED OR BUY MYSELF A DOG was a great success with readers and critics. With "Kaidú" she wins the National Prize for Novels Sara Gallardo 2022.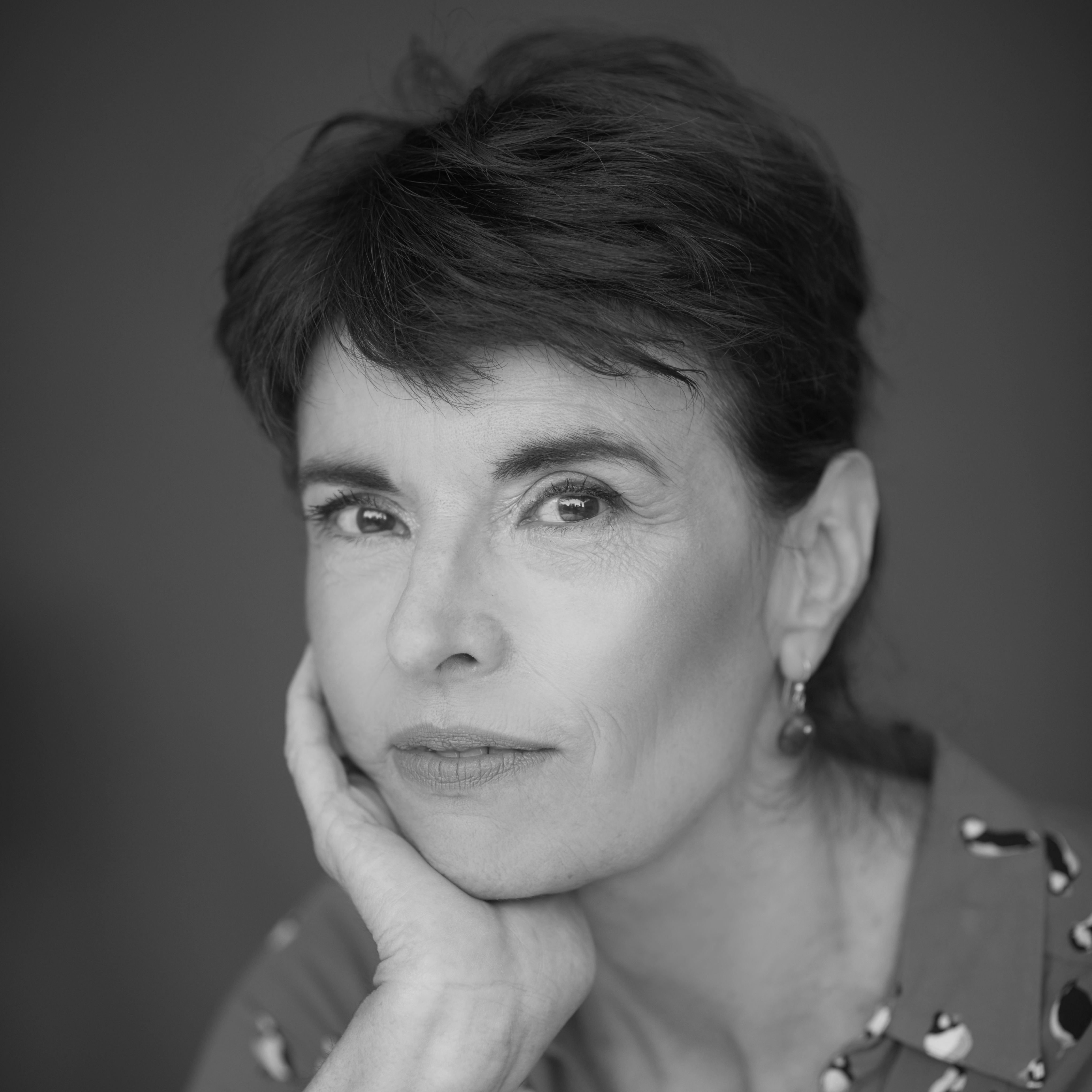 © Alejandra Lopez
What happens when Juan introduces Aína to his singular stray dog? Kaidú, a non-humanised companion, wins her over at first sight and reduces the distance between the three of them. She recognises with surprise her desire to spend more time with him; in a short time, passion multiplies. Can you be unfaithful with a dog? Juan, who is unaware of this secret, sets off on a journey and leaves Kaidú in her care. Alone with the dog, trapped in an ambiguity and a newly discovered sense of happiness, Aína lets herself be carried to the entrance of a parallel world. The modulations of nature are hidden in vital enigmas. Beyond all moral considerations, the protagonist finds a reason in the animalistic emotionality of this relationship.
Behind an intriguing triangular love story, Kaidú stands outside the limits of a hierarchically ordered universe. The author of the extraordinary "Don't Know if I Should Get Married or Buy Myself a Dog" resolves the question of that novel by exploring, with the subtlety that is already her trademark style, the unexpected forms that relationships can take.
The Great Plan ("El Gran Plan") is read as three major plans that fail: One of love-passion, one of flight-paradise, the other aesthetic-political. They are human plans, concerning issues that affect us all, and which, for being so grandiose and probably incompatible with the banality of existence, fail.
A man and a woman without formal ties or obligations towards each other live together in a house. He abducted her from a safe and schematic life; she went with him. They are united by something stronger than love. In the Atacama desert, the woman, along with an archaeologist, an astronomer, an anthropologist and a film director, is staying in a hotel that serves as their operational base. The director has filmed the light like no one before and is determined to commit suicide so that his film will be seen by a wider audience. In Venice, the woman's father followed the footsteps of Ezra Pound. After the father's death, she rescues his marginal notes which tried to clarify how the ground-breaking poet was seized by the longing to preserve order ravaged by war.
The Great Plan joins three moments of a life in a master pass. With an electrifying narrative intelligence, the new novel by Paula Perez Alonso ends with an unexpected and beautiful twist.
In her novel, the bestselling Argentinean author Paula Perez Alonso once again proves herself a sensitive and incorruptible observer of society. Fragile ("Frágil") is set in present-day Buenos Aires, where the two protagonists meet in the city's lively centre. When he discovers Celeste at the crossroads of Corrientes and Diagonal, Bruno is immediately fascinated: a girl on stilts dressed in neon colours handing out flyers from the Centro de la Liberación to passers-by. He follows her and they start talking. As they get to know each other better, Celeste manages to confront Bruno with his memories and his life story, which he had successfully repressed. The young man earns a living as a computer specialist, spending his free time walking the exact same paths through the city every night. He lives the life of a loner without any contact to his parents and grandmother, who tortured him psychologically as a child and broke his will. Celeste tears Bruno out of his apparently ordered and normal life, and he senses that she can help him. Celeste too senses that she touches something in Bruno. She wants to convince him that it's good to lose control over oneself every now and then. She suggests sex, but on their third real date he takes Celeste along on one of his night tours instead, and the two of them watch people through their lighted windows: people who are alone, people who have nothing to say to each other and all watch the same TV shows. Celeste recognises one of these individuals: a man who begs in the town centre and obviously manages to maintain a meagre sense of dignity. By chance, she and Bruno meet him later in a restaurant and get into conversation. A few days later, Celeste reads in the newspaper that the man has been murdered – and Bruno has vanished…
In Fragile, Paula Perez Alonso steers two unusual and fundamentally diffe-rent personalities up against each other, prompting dramatic consequences. The book is a startling revelation of the fractures and identity problems of today's Argentinean society.
Don't Know if I Should Get Married or Buy Myself a Dog
Don't Know if I Should Get Married or Buy Myself a Dog ("No sé si casarme o comprarme un perro") is a hypnotic and demanding novel which from the outset was read fervently by a vast audience in both Latin America and Spain: readers, captivated by its raw expressiveness, were transformed into hard-core fans. Back from a long journey, Juana is alone and knows it is not good for man and woman to be alone. She tries in vain to reconnect with people she used to know, but the gallery of characters she meets leads her to put out a classified ad: Wanted: a man who can compete with an ideal dog for the love of a woman. We are about to enter the tormented world of a young woman and her intense affections, trying to survive desperately by clinging to a humorous inquiry. But real life rarely respects humor.
Quotes
Don't Know if I Should Get Married or Buy Myself a Dog
ORIGINAL EDITIONS AND RIGHTS SOLD
NOVELS
Kaidú
Buenos Aires: Tusquets 2021, 120 p.
National Prize for Novels Sara Gallardo 2022

The Great Plan ("El Gran Plan")
Buenos Aires: Tusquets 2016, 222 p.
Fragile ("Frágil")
Buenos Aires: Seix Barral 2008, 230 p.
The Water in the Water ("El agua en el agua")
Buenos Aires: Seix Barral 2001, 255 p.
Don't Know if I Should Get Married or Buy Myself a Dog ("No sé si casarme o comprarme un perro")
Buenos Aires: Tusquets 1995, 2016, 280 p.
60.000 copies sold in Latin America and Spain!
STORIES
Made in the Workshop ("Hecho en taller")
Buenos Aires: Argos 1983
PARTICIPATION IN ANTHOLOGIES
Terror (The Unspeakable)  ("Terror – Lo inconfesable")
Argentina : Planeta 2012
The World of Book Publishing ("El mundo de la edición de libros")
Argentina : Paidós 2002