Machado de Assis Prize 2012Paulo Scott
Paulo Scott, born in Porto Alegre in 1966, lives in São Paulo and works as a writer, translator, playwright, screenwriter and cultural press collaborator. His books, among them five novels, a book of short stories and six books of poetry, have been awarded numerous prizes, such as the Machado de Assis Prize from the National Library Foundation, and shortlisted for renowned prizes like the Jabuti Prize, the Portugal Telecom Prize for Literature, the Dublin Literary Award, and the São Paulo Prize for Literature. His stories STILL ORANGUTANS were adapted as a movie, winning the Milano Film Festival in 2008. PHENOTYPES was shortlisted for the São Paulo Prize for Literature 2020 and longlisted for the 2022 International Booker Prize.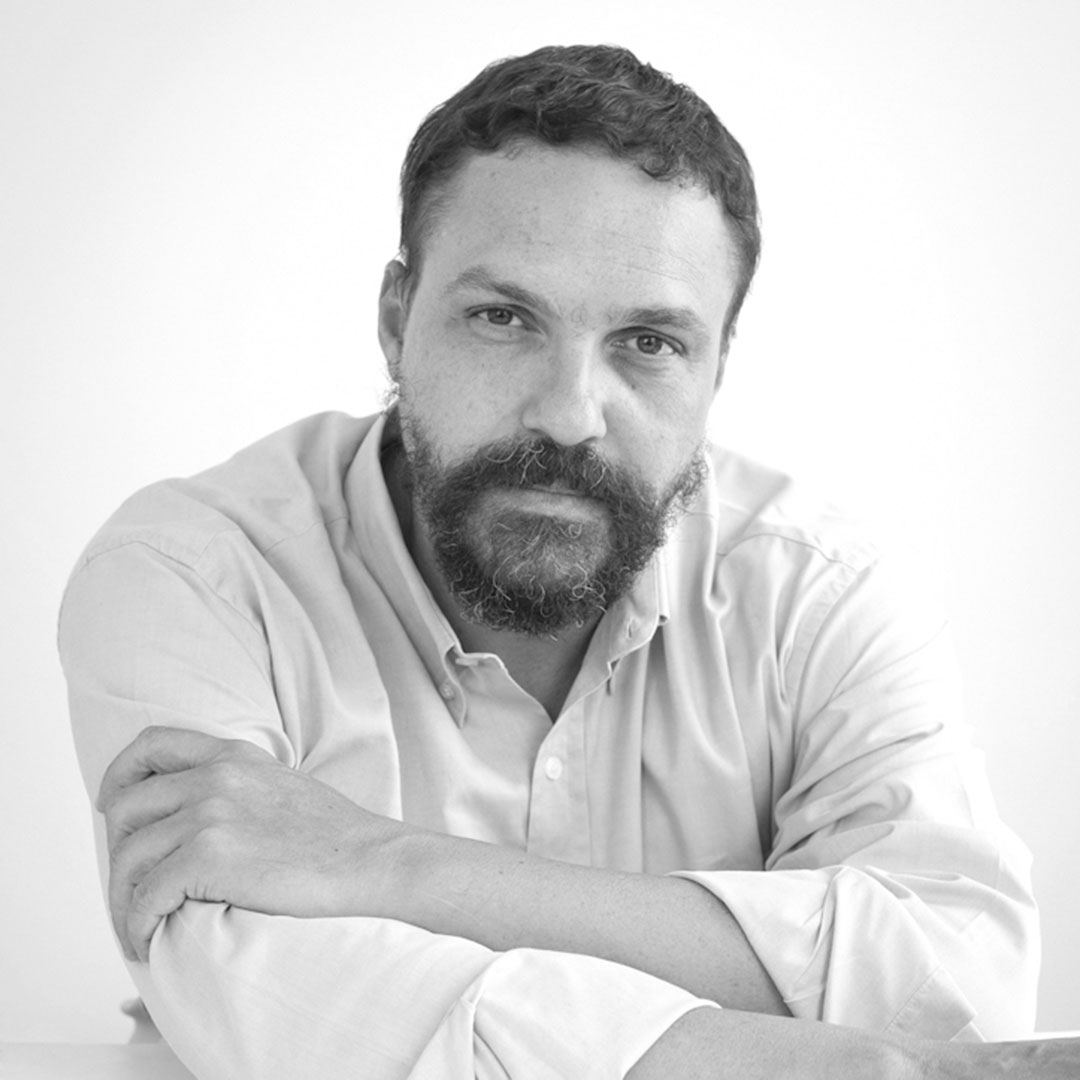 © Renato Parada
My World Versus Marta (MMXM)
My World Versus Marta (MMXM) (»Meu Mundo Versus Marta«) is a dystopic graphic novel in black and white without any text. Time and place are unknown. The atmosphere is marked by a fragile balance between a civilisation in crisis and a little-known presence called Marta, the Mars, the Weapon, the Death. In the beginning, the unnamed male protagonist is raising a little girl which turns out to be a bio-robot. It grows throughout the day, becoming a woman. In a scenario of endless rites and under the mediation of a growing distrust, Scott and Sica, two of the most outstanding names among contemporary Brazilian artists, create a story of extraordinary architecture, against protofascism – and in search of all that is human in us.
Quotes
My World Versus Marta (MMXM)
Phenotypes ("Marrom e Amarelo") is about two brothers who are very different from each other. Federico is light brown, tall, and quiet. Lourenço, one year younger, is dark brown, handsome, and a good guy. They grow up in a poor neighbourhood of Porto Alegre under the pressure of racial discrimination. While Lourenço tries to face it naturally, Federico becomes a tireless activist. At the age of 49, he is called to appear before a commission in Brasília, instituted by the new government, to discuss how to fill racial quotas in universities. Brown and Yellow is a book unparalleled in contemporary literature, which portrays a Brazil in turmoil, from the inertia of political command to the chronic racial tension of the entire society. It is a precise novel that makes us dive into the exposed abysses of the country. This novel discusses racism in an incisive way that, I believe, has never been seen in Brazilian literature. It questions class values, delves into the political, social and cultural developments from 1973 to 2016, showing a racist Brazil with no way out, no perspective and no equality, giving us only escape as a right and a promise of happiness. I can say that I have been waiting for a book like this for a long time. And it came.
Nowhere People ("Habitante Irreal") is a novel about different people all living on the fringes of Brazilian society. 21-year-old Paulo is disappointed with the country's social and political development after the military dictatorship. When he meets the homeless indigenous teenager Maína, he is moved by a rare sense of duty. Their love affair will mark both their fates and their struggles will continue in their mestizo son Donato. With this drastically realistic story and his plain language, Scott manages to captivate his readers.
Scott's most recent novel, Ithaca Road, leads us to the land down under. The young Maori Narelle comes to Sydney in order to run her brother's restaurant after he skips town under a burden of debt. Haunted by her violent past, Narelle meets the autistic girl Anna and opens up to another human being for the first time in years.
NOVELS
Phenotypes ("Marrom e Amarelo")
Rio de Janeiro: Alfaguara 2019, 155 p.
Longlist of the International Booker Prize 2022
Finalist of the Correntes D' Escritas Prize 2022
Included in the National Reading Plan in Portugal 2021
Finalist of the Jabuti Prize 2020
Finalist of the São Paulo Prize for Literature 2020
Açorianos Prize for Literature 2020
Selected as one of 19 titles to win the flagship translation awards of the English PEN 2020
Audiovisual rights under option at RT Features
France: Gallimard · Greece: Dardanos · Poland: GlowBook · Portugal: Tinta da China 2020 · Kuwait: Dar Alkhan (Arabic rights) · Spain: Urubú (Hueders) (Spanish world rights) · UK: And Other Stories 2022

The Year I Lived on Literature ("O Ano em que Vivi de Literatura")
Rio de Janeiro: FOZ 2015, 256 p.
Prémio Açorianos 2016
Ithaca Road
São Paulo: Companhia das Letras 2013, 112 p.
Nowhere People ("Habitante Irreal")
Rio de Janeiro: Alfaguara 2011, 262 p.
Prêmio Fundação Biblioteca Nacional 2012
Prêmio Jabuti 2012, Prêmio São Paulo de Literatura 2012, Prêmio Portugal Telecom de Literatura 2012, Prêmio Bravo 2012 (all finalist)
Audiovisual rights under option at Pironauta
Croatia: Hena-Com 2017 · Germany: Wagenbach 2013 · Portugal: Tinta da China 2014 · Turkey: Pinhan Publishing · UK: And other stories 2014
Volatile ("Voláteis")
Rio de Janeiro: Objetiva 2005, 208 p.
Prêmio Câmara Rio-Grandense do Livro
Journal O Sul "Revelation of the Year"
Film rights sold
SHORT STORIES
Still Orangutans ("Ainda Orangotangos")
Porto Alegre: Livros do Mal 2003; Bertrand Brasil 2007, 84 p.
Finalist Prêmio Açoriano de literatura
Adapted for the movies by Gustavo Spolidoro, winning the XIII Festival of Milan in 2008
GRAPHIC NOVELS
My World Versus Marta (MMXM) ("Meu Mundo Versus Marta")
With Rafael Sica
São Paulo: Quadrinhos na Cia 2021, 160 p.
POETRY (SELECTION)
The Monster and the Minotaur ("O Monstro e o Minotauro")
(with Laerte Coutinho)
Editora Dulcinéia Catadora 2011
The Shyness of the Monster ("A Timidez do Monstro")
Rio de Janeiro: Objetiva 2006, 108 p.
PARTICIPATION IN ANTHOLOGIES (SELECTION)
Brazil 25 – 2000-2015 ("Brésil 25 – 2000-2015")
France: Métailié 2015
Stories in Transit: Brazilian Narrative Anthology ("Cuentos en tránsito. Antología de narrativa brasileña")
Buenos Aires: Alfaguara 2014, 225 p.
(Story Encendedor de precipicios)
Generation Zero Zero ("Geração Zero Zero")
Língua Geral 2011
The Hundred Smallest Brazilian Tales of the Century ("Os Cem Menores Contos Brasileiros do Século")
Editora Ateliê 2004
SCRIPTS
The Beginning of the End ("O Início do Fim")
(as co-author)
Short movie by Gustavo Spolidoro
Jameson Short Film Award; selected for the Sundance Festival 2006