Fernando Bonassi, born in São Paulo in 1962, attended the famous Film Academy in São Paulo. His short films, documentaries and scripts have won him several prizes. In 1998 he was a guest of the Artists-in-Residence Programme in Berlin. He presently works for Brazilian newspapers like Folha de S.Paulo, and writes screenplays for TV Globo. Fernando Bonassi is regarded as the chronicler of Brazilian suburbia. With relentless precision he describes the misery of ordinary life, the physical violence and brutality that lies in the silent routine of human relationships.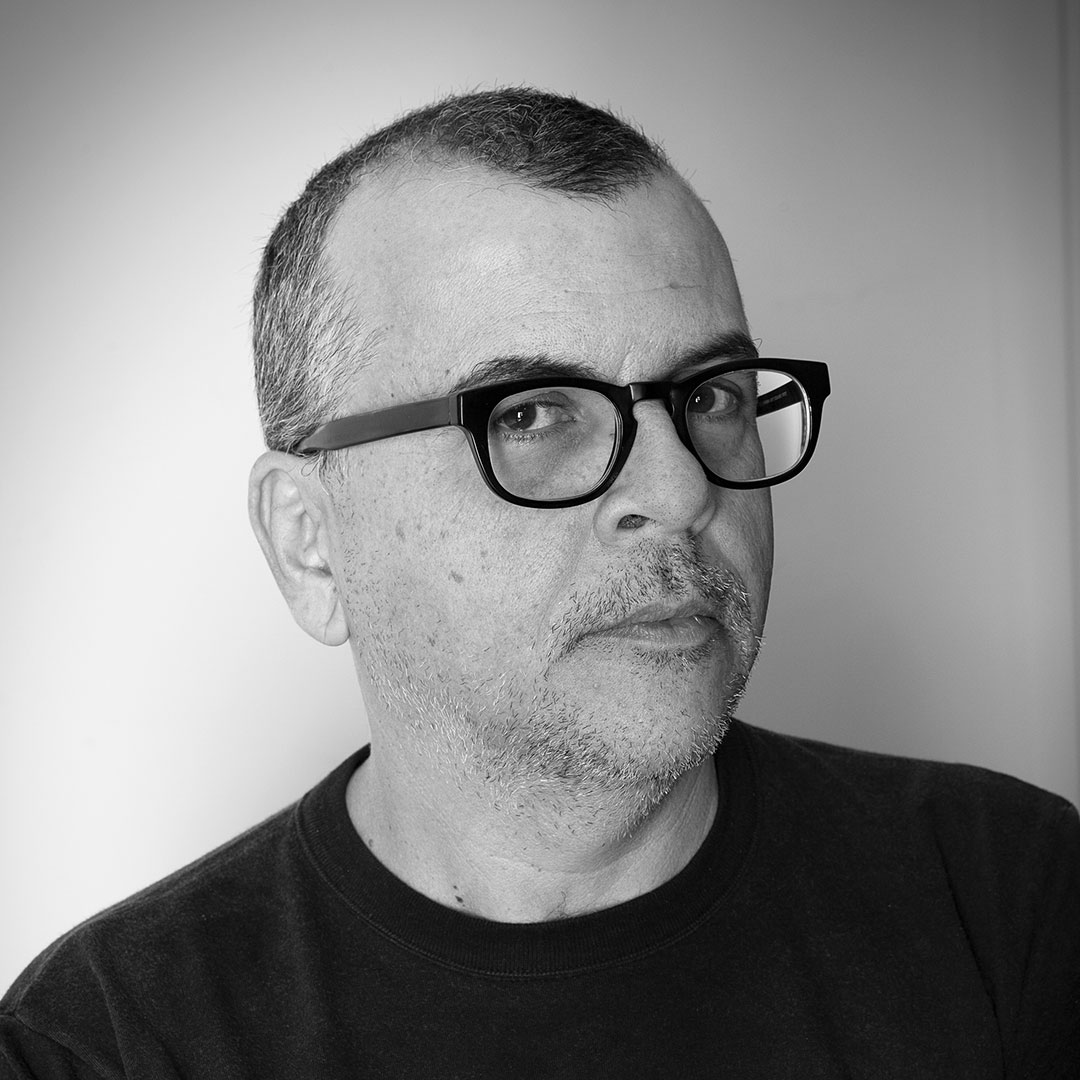 © Cris Bierrenbach
Anyone who wants to understand, in depth, Brazil following the military dictatorship, has to read Fernando Bonassi's coherent and prolific work. Since his first books, in the early 1990s, Bonassi has recorded, in novels and short stories and plays, the various setbacks we have gone through, with the privileged and critical eye of someone who knows Brazilian society in their guts.
Possessing an unmistakable voice in contemporary literature, Bonassi has chosen the suburb – the title of one of his most important novels – as the location for his books. This suburb, portrayed in the excellent Lust, published in 2015, and to which he returns here in this magnificent Degeneration – a decadent suburb of São Paulo, like all other Brazilian suburbs, inhabited by a lower middle class that struggles with all weapons at its disposal to survive, harassed by brutality and lack of prospects.
Degeneration is almost a natural unfolding of Lust. In the latter, the author portrayed a family who, believing that access to material goods would guarantee social recognition, sees euphoria turn to violence. In Degeneration, this violence resurfaces even more crudely when we follow the saga of the son of a police informant trying to release his father's body for cremation, during the weekend in which the election that put the extreme right in power is held. Terrifying metaphor – the inside, the outside, the private, the public – everything flows into the cul-de-sac in which we collectively find outselves.
Fernando Bonassi's novel Luxúria ("Gluttony") gives an account of an unnamed man who, inspired by a glossy magazine and to impress his wife, decides to crown his self-assumed wealth by building a swimming pool – on credit and in the garden of his dwarf-sized house in a social housing area. Little by little, like a chain reaction, the absurd building process exposes not only the drain pipes of the neighbourhood but also the gaping abysms of everyday bourgeois life. In debt, harassed, jobless and driven by his own demons, he tries to kill his dog before he finds a final solution for his family and himself.
Luxúria is a parable of the nation's circumstances: the "new Brazilian middle class", taken completely by surprise by their unexpected wealth, staggers head-on and without any moderation into the entirely foreseeable crisis. In relentlessly sober language, as if set in harshly exposed photographs and bold camera shots, Bonassi meticulously illuminates the lives of his protagonists. A fast-paced, disturbing novel that keeps the reader glued to his seat.
Subúrbio // Um céu de estrelas // Crimes conjugais
Bonassi – I do not write to entertain, I write to disturb myself and my reader – is unafraid to express, in verbal and written form, how he sees society in his country and the people in his city. His novel Subúrbio was one of the very first books to come from and deal with the world of the bleak suburbs which has long since reached the city centres. High walls, electronic barriers are of little use any more. The world of the privileged few can no longer cut itself off. What sort of a world is this, asks Bonassi, which constructs such walls, instead of confronting and combating misery, showing these people a way out. The novel Um céu de estrelas ("A Sky full of Stars") was made into a prize-winning film by Brazilian director Tata Amaral. That he can also be entertaining he demonstrates in the crime story Crimes conjugais ("Marital Crimes"), an exciting, briskly moving story of big city crime.
Quotes
A Sky full of Stars
The novel Prova Contrária ("Counterevidence") tells the story of a woman who receives an indemnization from the government since her husband supposedly disappeared after having been tortured by the military regime. One day her husband returns… was he really the political hero his wife had believed him to be?
O menino preso na geladeira
O menino preso na geladeira ("The Boy trapped in a Fridge") has experienced nothing but privation and hollow promises by a corrupt government in a destroyed country. He therefore builds himself a large fully equipped fridge and locks himself in, as to isolate himself from the outside world. After a number of crazy coincidents, however, he suddenly becomes a national anti-hero. This is an absurd story, which seems to take place very far away, in truth, however, portrays a well-known reality.
ORIGINAL EDITIONS (SELECTION) AND RIGHTS SOLD
NOVELS
Degeneração
Rio de Janeiro: Record 2021, 288 p.

Luxúria
Rio de Janeiro: Record 2015, 368 p.
English sample translation available
O menino preso na geladeira
Rio de Janeiro: Objetiva 2004, 218 p.
Prova contrária
Rio de Janeiro: Objetiva 2003, 97 p.
Film rights sold
O céu e o fundo do mar
Geração Editorial 1999, 126 p.
O amor é uma dor feliz
São Paulo: Moderna 1997, 302 p.
Crimes conjugais
São Paulo: Scritta 1994, 271 p.
Subúrbio
São Paulo: Scritta 1994, 319 p.
Revised Edition: Rio de Janeiro: Objetiva 2006
April 98 – theatre version at Schauspielhaus Hamburg, directed by H. Kresnik
France: Moisson Rouge 2008
Um céu de estrelas
São Paulo: Siciliano 1991; Rio de Janeiro: Objetiva 2005, 201 p.
Film by Tata Amaral 1996 (Several prizes)
1996 SESC Prize, São Paulo, for the best play of a young author.
O amor em chamas
São Paulo: Estação Liberdade 1989, 110 p.
SHORT PROSE AND TEXTS FOR YOUNG READERS
Diário da Guerra de São Paulo
São Paulo: Publifolha 2007, 104 p.
O pequeno fascista
São Paulo: Cosac & Naify 2005, 59 p.
(Ill. by Daniel Bueno)
Por um beijo
São Paulo: Ed. FTD 2002
As melhores vibrações – Um livro sobre sexo para homens e mulheres de todos os sexos
São Paulo: Ed. Publifolha 2002
São Paulo/Brasil
Belo Horizonte: Dimensão 2002, 105 p.
Passaporte
São Paulo: Cosac & Naify 2001, 139 p.
Declaração universal do moleque invocado
São Paulo: Cosac & Naify 2001, 24 p.
A incrível história de Naidinho (Um bandidão ou anjinho) 
São Paulo: Geração Editorial 2001, 23 p.
100 coisas
São Paulo: Angra 2000, 109 p.
Spain: Moment Angular 2004 (Catalan)