El colectivoEugenia Almeida
Eugenia Almeida was born in 1972 in Córdoba, Argentina, where she teaches Literature and Communication. She has worked on theatre, radio and television productions, as well as on scientific projects relating to humour. For her first novel THE BUS she received the Premio las dos Orillas in 2005, awarded biannually by the Salón del Libro Iberoamericano. Her novel THE ROOM AT THE BACK was shortlisted for the prestigious Premio internacional de novela Rómulo Gallegos 2011. THRESHOLD TENSION was awarded the Transfuge Prize as Best Hispanic Novel in 2016. She won the Critics' Prize 2019, announced at the International Book Fair of Buenos Aires 2022, with her book of essays FLOODING.
Please also visit the author's blog: > eugeniaalmeidablog.blogspot.com.ar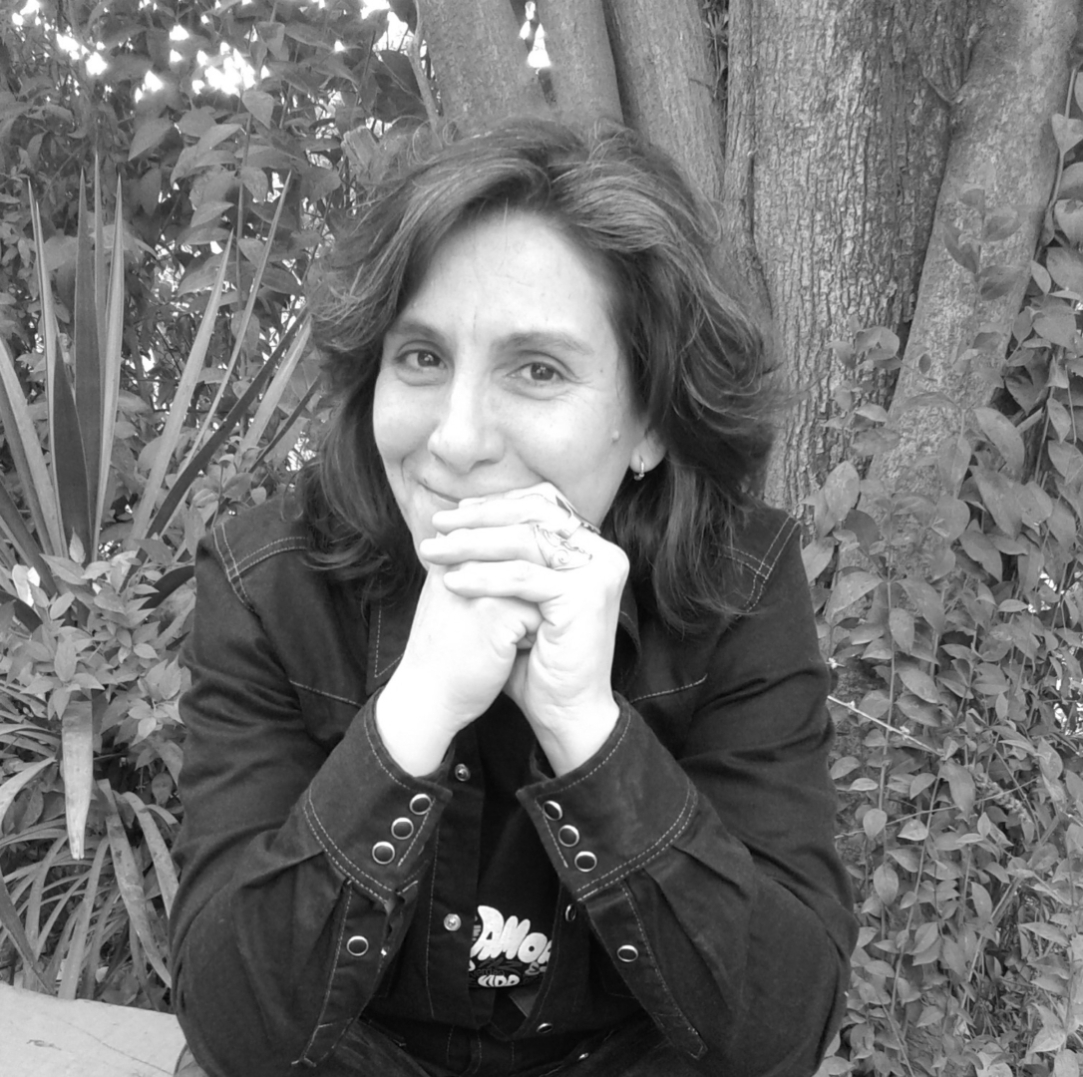 © Cecilia Cortés
Durruti is a feared and respected figure in the criminal underworld. His business involves stolen cars, dismantling them and selling their parts, and other related activities, typical of his field. But above all, his business is keeping order: ensuring that no one does anything he doesn't approve of, that the police and the political authorities, with whom he has a cast-iron pact, are not forced to overact and break the criminal harmony by actions that aren't part of the script. It isn't easy to keep everyone in line. It would only take one spark in the wrong place at the wrong time to upset the balance.
Life unfolds. A man is jealous of his wife and follows her with unexpected consequences. A mother is happy about her daughter's promotion, unaware that she isn't exactly working as a secretary in that sought-after downtown apartment. Her sister always wanted her to learn her spiritual wisdom from her; who knows, it might have saved the young woman.
The spark ignites; that disturbance, slowly, precipitates others; each one greater than the last. The younger foot-soldiers murmur and stop following orders; the neighbourhood becomes unsettled; outbursts and improvisation take over. The spiral of violence expands and encircles them all. Suspicion replaces secrecy and respect; the old order is shaken, waiting for a new one to arrive, and this is not necessarily good news.
In Scrapyard ("Desarmadero"), Eugenia Almeida makes full use of the codes of the noir series to construct a storyline where corruption and crime reach all layers of society. With terse writing and an extraordinary mastery of the oral register, she tells a great story based on small events that produce uncontrollable consequences. Its plot could be set in any Argentinean city, its characters scrambling to escape the abyss that opens up before them.
The final sentence sounds both consoling and optimistic: "I am going to help you". But in reality, it condemns the poor devil to whom it is addressed to never again being free in his life, as had happened to Durruti because of his love for his little brother, the Nene, and as will happen to everyone because the system is bigger than all of them.
Eugenia Almeida's superbly written crime novel Threshold Tension ("La tensión del umbral") is both a gripping story and an astute study of human behaviour.
Guyot, a brilliant but headstrong journalist with a tragic personal history, becomes obsessed with the suicide of a woman whose motives for killing herself seem connected to past events: a series of alleged murders and suicides relating to a highly feared criminal in league with the military. But what really happened? And how is Julia, the suicide victim, connected to those events? As Guyot digs deeper, the dark secrets about the desaparecidos begin to surface. At the same time more and more of those he involves in the case end up dead or injured. When his new lady friend Vera is threatened, Guyot has to make a painful decision.
Written in refreshingly straightforward language, this novel keeps the reader's attention with its strong characters and the sheer force of its carefully constructed storyline.
The Bus ("El colectivo"): A small town in the Argentinean provinces. A bar, where an unknown couple are waiting for the bus. As are Marta and Antonio Ponce, whose sister wants to depart. Clouds are drawing close in the sky, without bringing rain, as always. But something peculiar happens: The barriers of the railway crossing, abandoned long ago, are lowered and the bus roars past the bar without stopping. No one can leave the little town.
The Ponces have lived here for 32 years – as a wealthy lawyer, Antonio, seemingly on the wrong side of the rails, in the poor quarter. At the time, Marta became pregnant and Ponce felt obliged to ask for her hand in marriage. When she lost the child, it seemed too late to him to cancel the wedding. But she hadn't even wanted to marry him and confessed she had only given in to him that night out of pity. This he never forgave her. He sought revenge by forcing her to a monotonous life at his side.
The accelerating bus turns into a spectacle, drawing in larger crowds every night. Confusion prevails, only the lovers make their way on foot along the rails. In the meantime, at the small police station, incidents follow in quick succession. Orders are now given by the military and at dead of night it comes to a shootout on the railway tracks. The next morning, the barriers are lifted; the Ponces are once more on their way to the bar, for once again, the bus stops for the passengers. At last it rains. The newspapers report the death of two dissidents. Who could ever be able to recognise the couple from the bar on the blurry photograph?
In sober prose, the author draws on her diffuse childhood memories of the dictatorship, to tell of internal and external suppression and its fatal consequences.
The Room at the Back ("La pieza del fondo") tells the quiet and tender story of a group of people who live on the edge of society and are still able to show solidarity to each other, in spite of pain and loneliness. An old and dishevelled man sits on the same bench every day, unmoving and silent. Only Sofía, a harassed waitress in a run-down bar, tries to help. When he disappears, a whole set of parallel events are set in motion.
Quotes
The Room at the Back
NOVELS

Scrapyard ("Desarmadero")
Buenos Aires: Edhasa, 2022, p. 234 p.
France: Métailié · Bulgaria: Tonipress

Threshold Tension ("La tensión del umbral")
Buenos Aires: Edhasa 2015, 300 p.
Transfuge Prize for Best Hispanic Novel 2016
German sample translation available
France: Métailié 2016
The Room at the Back ("La pieza del fondo")
Buenos Aires: Edhasa 2010, 243 p.
Shortlisted for the Rómulo Gallegos Award 2011
France: Métailié 2010
The Bus ("El colectivo")
Barcelona: Roca 2007; Buenos Aires: Edhasa 2009, 153 p.
Las dos Orillas Award for Novels 2005
France: Métailié 2007, pb 2012 · German: Stockmann 2010 · Greece: Opera 2007 · Iceland: Salka · Italy: Guanda 2007 · Portugal: ASA 2007
ESSAYS
Flooding ("Inundación")
Critics' Prize 2019 of the Book Foundation in Argentina
Córdoba: Ediciones DocumentA/Escénicas 2019, 116 p.
POETRY
La boca de la tormenta
Alberto Burnichón Award 2015 for the best published book in Córdoba in 2014/2015
Córdoba (Argentina): Ediciones DocumentA/Escénicas 2015