Golden Butterfly Award 2014Jian-Xin Zhou
JIAN-XIN ZHOU was born in 1973 in southern Taiwan. With a master's degree in printmaking from Taipei National University of the Arts, Zhou worked as a printmaker and teacher before becoming a full-time illustrator. He specializes in using different materials and styles to match the context of each story. His first illustrated work, A SMALL ORIOLE, won the 2014 TAIWAN GOLDEN BUTTERFLY AWARD FOR BEST BOOK DESIGN, which is the highest honour in book design in Taiwan, and an HONOURABLE MENTION FROM THE INTERNATIONAL DESIGN AWARDS. Zhou's prints have been featured at several famous exhibitions in Taiwan and France. In 2017, Zhou was the special guest of the Taiwan Pavilion at the Guadalajara International Book Fair in Mexico.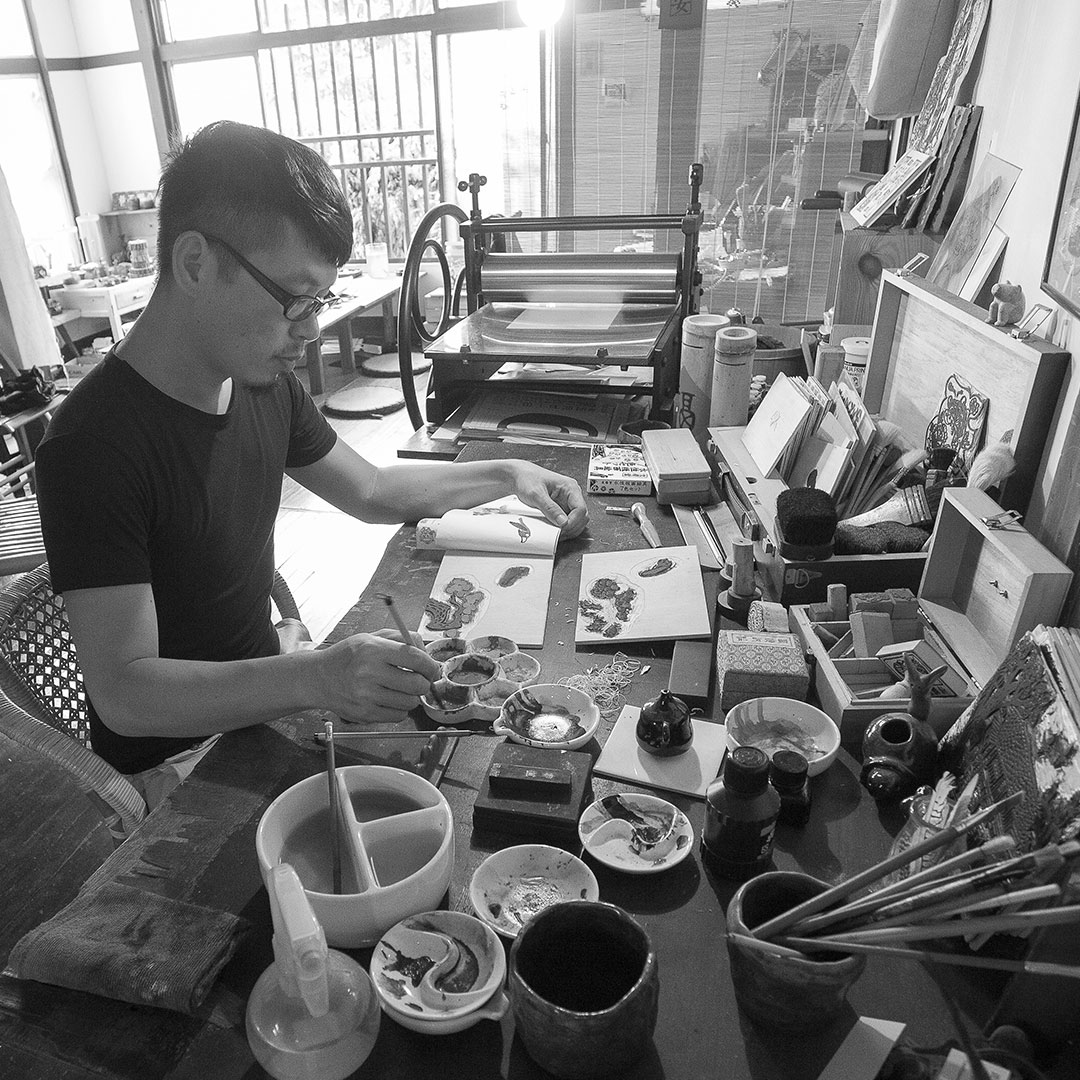 © Jian Xin Zhou
A Small Oriole flees from its cage, beginning a quest for its own identity. Throughout its journey, it thinks about these three questions: Who am I? Where am I from? Where am I going? Along the way, it sees beautiful landscapes and makes new friends, such as a cow, a pine tree and a buddha statue, until it finally meets another oriole with whom it can continue its journey. The story is based in Hualien, a city in eastern Taiwan, and the author uses woodcut printing to create the book. The text incorporates elements of philosophy and Zen, and a careful reader might see a political and social dimension regarding independency, solidarity and friendship in the text. In any event, while browsing through the book, the reader will, just like the oriole, embark on a voyage of self-discovery about some of the elemental questions in the lives of all of us, in a magic setting.
Grandma is taking a nap, and Tiny is terribly bored. So she sets out to have some fun on her own. Tiny packs her small cutlery set, gets on her bike, and turns into a dashing explorer, just like that. Her dog Abu comes along and makes a brave companion in the great adventure ahead of them. They encounter lots of monsters along the way and, unfortunately, Tiny and Abu get caught by two of the monsters. Can they get away in the end?
Tiny's Big Adventure is about a little girl who bravely explores the world. Even the most ordinary things can seem scary in the eyes of children, but Tiny faces all these strange things calmly and confidently. This is an exciting adventure created with a great deal of fantasy, reminding us all what imaginative children we once were and that it's never too late to see things from a different perspective.
Quotes
Tiny's Big Adventure
CHILDREN'S BOOKS
Tiny's Big Adventure
Taipeh: Pace Books 2016, 22p.
China
A Small Oriole
Taiwan: Pace Books 2016, 28 p.
Brazil: Globo 2021

Represented for Bardon Chinese:
Plumeria
Nai-Wen Kuo (text) and Jian-Xin Zhou (Ill.)
Taiwan: HsinYi 2018
Puppy and I
Nai-Wen Kuo (text) and Jian-Xin Zhou (Ill.)
Taipeh: HsinYi 2017
China; Korea
The Squirrel and the Banyan Tree
Taipeh: Sharp Point 2016
The Lost Cat
Nai-Wen Kuo (text) and Jian-Xin Zhou (Ill.)
Taipeh: HsinYi 2013
China 2014; Mexico